No access to property

03/10/2009 The Star By YIP YOKE TENG
THE access road issue that had been plaguing Paramount View Condominium in Petaling Jaya had been brought to the attention of the public complaints bureau.
Deputy Minister in the Prime Minister's Department Senator Datuk T. Murugiah, who heads the department, would invite all stakeholders and relevant government agencies for a meeting on Monday at the bureau's headquarters in Putrajaya to come up with an amicable solution.
He said the two elected representatives from PJ (Petaling Jaya Utara MP Tony Pua and Kampung Tunku assemblyman Lau Weng San) would also be invited to express their views.
The 233-unit condominium was completed six months ago but residents had not been allowed to move in as it does not have an access road.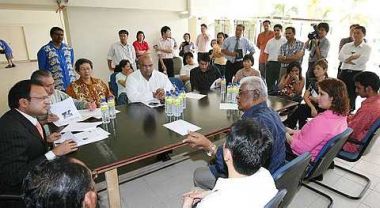 Residents in the area had protested against the use of Jalan SS1/25, SS1/26 and SS1/39 as the access road as that would bring congestion and parking problem to the neighbourhood.
"There are two proposed solutions at the moment.
"The one to use Tenaga Nasional Bhd (TNB) reserve land is not possible as the area has been erected with high-tension cables while the other suggestion was to use Jalan SS1/25.
"But the nearby residents are not happy with this proposal," he said when visiting the site recently.
He also added that if it was found that there were flaws and mistakes in the planning stage, the bureau would inform the relevant authority to go after those who responsible for it.
He added that he was aware that the Petaling Jaya City Council and developer DutaLand Bhd were now engaged in a court case over the issue.
Paramount View Condominium pro tem committee chairman Melvin Reynolds said the buyers were frustrated that the surrounding residents objected against the project only when the building was nearing completion.
"But the project was approved, completed and we are servicing the payments, what are we supposed to do next?
"If the council now wants to retract its approval, it should rightfully return our money," he said.
He urged the nearby residents to allow the developer to use Jalan SS1/25 as a temporary access road.
"Allow us the temporary access and let us move in first so our financial burden can be eased.
"Later the relevant parties can discuss about the permanent access. We hope they can help us at least on humanitarian grounds," he said.