A solution most foul
14/10/2009 The Star By ELAN PERUMAL

THE developer of an apartment project in Kinrara, Puchong, has been channelling sewage discharge into the main drain which leads to the Klang River.
It is learnt that the illegal activity has been going on at the Vista Lavander apartments project for more than five years.
According to residents, the overflow from a sewerage manhole in the basement of the 15-storey Block A is being diverted into the main drain.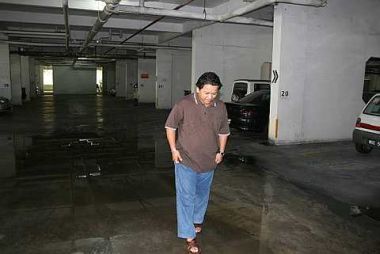 Unpleasant walk: A resident gingerly making his way through the basement which is wet with the sewage water
The developer has built a mini-concrete pond around the overflowing manhole and created an outlet to channel the sewage into a main drain.
"We expected the developer to rectify the problem of the overflowing manhole but they have found an easy 'solution by discharging the sewage into the drain.
"We raised the matter with the developer but they have not done anything to rectify the situation," said Vista Lavander joint management body (JMB) chairman P. Thinatayallam.
Thinatayallam said the overflow from the manhole was caused by a faulty sewage pipeline.
"This is a daily affair and it has become a normal thing for the residents here," he said.
However, Thinatayallam said the negative attitude of the developer had landed the JMB into a lot of problems with the residents, who blamed the management body for the wrongdoings of the developer.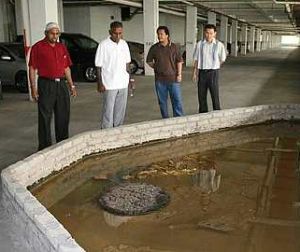 Easy way out: Thinatayallam (left) and some of the residents checking the mini-pond.
Apart from the overflowing manhole, Thinatayallam said the basement was also filled with sewage discharge caused by the leaking sewage pipes, and this had deprived the residents of their right to park their vehicles in the basement.
"Many of the residents are forced to park their vehicles outside the apartment compound due to this situation.
"The presence of the sewage also results in a strong stench pervading the neighbourhood," he said.
When contacted, Sentosa Restu maintenance manager R. Devadass, who is also the building manager, declined to comment.