Housing issues and health among new councillor's priorities
01/07/2008 The Star By Lim Chia Ying

IT IS good news for house buyers that a a member of the National House Buyers Association (HBA) is part of the confirmed list of councillors for the Subang Jaya Municipal Council (MPSJ).
With numerous abandoned housing projects in areas under the council's jurisdiction, the HBA honorary secretary-general Chang Kim Loong can perhaps now look into ensuring that future projects will not suffer the same fate and that house buyers' rights are protected.
"My stand is that this equates to public service and something which HBA has always been doing,'' said the 49-year-old Chang.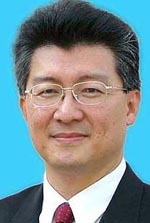 Chang: 'I shall continue the quest for affordable housing'
" I shall continue the quest for affordable housing and minimising the number of abandoned projects.
"I also hope to help out the Commissioner of Buildings (COB) that has its hands full in the MPSJ in handling the strata title act and ensuring the new law of Building and Common Property (Management and Maintenance Act) is not derailed."
Chang said he also wished to rectify the ills of the housing industry and to make the government's aspiration of Build & Sell concept 10:90 work.
"We at HBA are encouraged by Selangor Mentri Besar Tan Sri Khalid Ibrahim's statement last week on the Build & Sell concept. We want developers to come out of their comfort zone of previously Sell & Build, and to also weed out irresponsible developers because people have suffered enough," he added.
Also on the list is former USJ Residents Association (USJRA) president Datuk Dr Subramaniam @ Muthu a/l Nadarajan.
Subramaniam said he does not know what to expect from the council at this moment but is proud to be appointed as a councillor.
"I look forward to working closely with the MPSJ and becoming a bridge between the council and residents," said Subramaniam, 68.
He said among the immediate issues that he wished to look into are the incidences of dengue, which he cited as an endemic disease that goes on throughout the year.
"As far as health issues like this are concerned, people are educated about it but they become complacent over time. Also, I wish to look into the health of senior citizens and bring about awareness on the facilities that they need."
Meanwhile, about eight councillors' posts are held by members of the DAP. They include Gary Chong and Tai Cheng Heng, who are special assistants to Kinrara assemblyman Teresa Kok and Seri Kembangan assemblyman Ean Yong Hian Wah respectively.
They had all submitted their letter of acceptance last week after the council had set the deadline for submission last Thursday.
Many residents were eagerly awaiting the list but the council insisted they would only release the official one during the councillors' swearing-in ceremony today at the MPSJ.