New contractor appointed to revive stalled project at PJS 9
14/06/2008 The Star By Lim Chia Ying

THE four uncompleted blocks of the Lagoon Perdana Apartments at PJS 9 are being revived.

Developer Tenaga Gagah Sdn Bhd has appointed IJM Construction Sdn Bhd as principal contractor for the project since early 2007, as well as two other sub-contractors to help with the revival.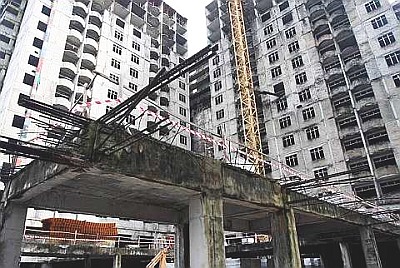 On the move: Work has resumed on the project.

The medium-cost apartments has eight blocks, four of which have been completed but the remaining four were left abandoned since 2005.

Now, work on the uncompleted blocks – Block 1, 3, 7, and 8 – has begun and buyers are hoping for the best.

Subang Jaya assemblyman Hannah Yeoh visited the site recently with Tenaga Gagah director Ibrahim Mohamad, representatives from the Housing and Local Government Ministry and IJM Construction.

Yeoh said the update she received was that work had started on Block 1 and 8, and they were expected to be completed by December this year or early next year.

"For Block 3, I was told that it should be complete by February next year. As for Block 7, the contractor is currently conducting more tests on stability before being able to advise on the completion date," she said.

Yeoh said she had been working closely with the buyers and the ministry, which is also monitoring the progress of the project.

"I hope that this project will be completed for the sake of the people.

"Also, I want to make sure that these buildings are safe once ready and quality should not be compromised. IJM is a reliable name in the construction industry so hopefully this is good news for the purchasers," she said.

Lagoon Perdana Apartments residents' association vice-secretary Gurcharan Singh said he had been updating buyers on the latest status of the project and he knew of people who were still paying off instalments and interest.

"We are trying our best to solve this problem," he said.

Purchaser Tey Hwee Wai claimed the project had been delayed twice. He hopes that the units can now be completed.

"There are many buyers from outstation who rely on the association to provide them with updates," Tey said.

Ibrahim said buyers would not have to fork out extra for the revival.

"In the meeting we had with them last May, they have agreed to give us an extension of time to finish off the project."

Housing and Local Government Ministry representative Mohd Rizuan Omar said the ministry had held various meetings to seek ways on how the project could be revived.

"Hopefully, buyers will be satisfied with the appointment of the contractor. They can also cooperate with us to monitor the project until its completion," he said.

Mohd Rizuan said this was not the only project that the ministry is looking at as there are various other stalled housing projects that it keeps tabs on.