Puchong township littered with stalled or abandoned projects
29/05/2008 The Star By Geetha Krishnan

IF there was an award for the area with the most number of stalled housing projects in Selangor, Puchong would easily win the dubious honour.

Puchong is littered with stalled or abandoned projects, creating an eyesore for an otherwise booming beautiful township.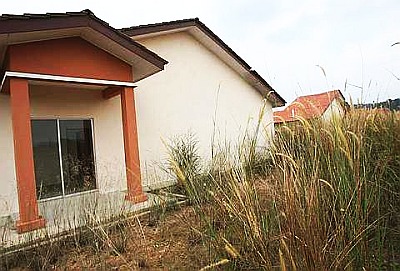 Overgrown: Lalang has taken root at Lestari Permai Phase 1A.
Decaying abandoned buildings, unsightly hoardings and idle infrastructure contribute to the degradation of Puchong.
The projects at Lestari Permai, Putra Perdana, Lestari Perdana, Lestari Puchong and Saujana Puchong, to name a few, have been labelled as problematic because construction works ground to a halt a few years ago. Works were then 55% to 90% complete.
Thousands of house buyers are left with nothing but an agonising wait and mounting debts.
In the case of Lestari Permai Phase 1A, the project was nearing completion when work stalled in 2005. The site, within view of the Kuala Lumpur-Putrajaya Highway, has been abandoned since and is overgrown with lalang. Signs of decay are setting in.
StarMetro met with house buyer Nor Azmir Ismail at the site on Wednesday and he said all that was left was the external structure.
"My house is 90% complete and all it needs is water, electricity and an access road. I signed my sales and purchase (S&P) agreement in 2003 and was assured of delivery within 24 months," he said.
Azmir bought his single-storey terrace house with a RM130,000 bank loan.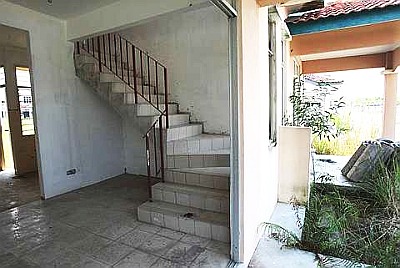 Problematic: The interiors are also getting damaged due to the abandonment.

"It has been a frustrating wait but what is more disheartening is that house buyers are still being kept in the dark. The developer Europlus Construction Sdn Bhd, a subsidiary of Talam Corporation Bhd, has not answered our letters," he said.

Azmir said that following numerous complaints to the Housing and Local Government Ministry, a meeting was arranged with deputy minister Datuk Hamzah Zainuddin and a few house buyers recently.

"Hamzah has assured us the matter would be settled as soon as possible. We can only wait for the outcome," Azmir said.

According to Lestari Permai Phase 1B buyer Liza Marwati Mohd Yusoff, fungus is growing on the walls of her uncompleted house and there are problems like the leaking roof and damaged fence.

"When we contacted the developer, they claimed they were having problems with their contractors and were facing a shortage of foreign labour due to stricter hiring polices and such. But, they failed to consider our problems," she said.

Azmir, Liza and other buyers in a similar predicament have been servicing the interest on their housing loans.

Azmir is renting a place in Kota Perdana for RM450, on top of the RM700 monthly instalment paid to the bank to repay the housing loan.

Liza lives with her parents in Setapak and hopes to move to Puchong some day.

They said that because the developer had cited financial troubles, they did not expect to be adequately compensated under the liquidated ascertained damages (LAD) for late delivery.

"We just want our houses," they said.

House buyers of Lestari Permai have formed an action committee led by Ali Hanafiah to handle the issue and to deal with the relevant parties.

Putra Perdana - La Cottage buyer Noor Hapshah Md Tahir hopes to embark on a similar trail to curtail her problems.

She signed her S&P with Metro Tegas Sdn Bhd, a subsidiary of Talam Corp, for a double-storey terrace corner lot priced at RM132,400 in 2003. Delivery was originally scheduled for March 2005 but work stopped that year.

"Later, Talam announced that it was unable to proceed with its projects in Putra Perdana, Taman Puncak Jalil, Lestari Puchong and Bukit Beruntung. My heart sank," she said.

"I have been visiting my unit which is only 55% complete. The walls haven't been plastered and the flooring is now damaged," Hapshah said.

She has been in touch with the Housing and Local Government Ministry and was informed that meetings have been held on the matter.

Putra Perdana - La Cottage comes under the jurisdiction of the Sepang Municipal Council (MPS).

According to MPS public relations officer Zelda Mohd Zamri, the council is aware of the delay and has written to the developer asking for an explanation.

Zelda also said that representatives from the MPS building department had been sitting in during the meetings with the ministry.

Puchong MP Gobind Singh Deo said during a telephone interview that he had raised the issue of stalled and abandoned housing projects at Parliament.

"The government cannot sit back and allow the problem to continue, especially when criticisms have been hurled against it for encouraging the sell-and-build concept. We have to revert to the build-and-sell concept as a measure to avoid problems," he said.

"I will seek a meeting with Housing and Local Government Minister Datuk Seri Ong Ka Chuan to get an assurance from him that the housing woes in Puchong would be looked into as soon as possible," Gobind said.

In February, Selangor Housing and Real Property Board executive director Datin Paduka Alinah Ahmad had said that the state had a total of 138 abandoned projects involving 36,562 units, with Puchong ranking high on the list.

The Subang Jaya Municipal Council (MPSJ) sent a statement stating that it has been having periodical meetings with the developers of Lestari Puchong, Lestari Perdana and Saujana Puchong since 2002.

"The developers of Lestari Puchong and Saujana Puchong have reacted positively where construction work has commenced in cooperation with IJM," the MPSJ said.

"There has not been further action from Shah Alam Properties for Lestari Perdana," it said.

On the next course of action, the MPSJ said that it would report to the Housing and Local Government Ministry if there was no follow-up on the developer's part.

The MPSJ advised house buyers to take legal action as stated in the S&P that they had signed.
According to its statistics, there are 13 abandoned projects that fall under the MPSJ's jurisdiction.
Talam Corp said in a press statement last year that it had awarded IJM Construction Sdn Bhd a second package worth RM125mil, comprising five development projects involving 2,733 units for completion by the latter.

According to the Talam statement, IJM Construction would finish all the outstanding external and internal infrastructure works for the 2,733 units of sold landed properties and apartments in Taman Lestari Puchong, Saujana Puchong, Saujana Putra, Lestari Permai and Jalil Heights.

"Construction work is expected to commence in January and the handing over of vacant possession is targeted to take place between six and 18 months," the statement said.

IJM Construction was also awarded a RM700mil contract to complete 8,439 houses and apartments for six other projects - Taman Puncak Jalil, Ukay Perdana, Putra Perdana, Kinrara Seksyen 3, Bukit Beruntung dan Lagoon Perdana.