RM3b to revive abandoned housing projects
Sunday Star 26/6/2005

PENANG: It would cost the Government RM3bil to revive 172 abandoned housing projects in the country.

Prime Minister Datuk Seri Abdullah Ahmad Badawi said the money need not be spent if developers had fulfilled their responsibility and completed the projects consisting 32,000 units.

"The money could be used for other projects. But if we did not give the money to revive the abandoned projects, the buyers will get angry with us," he said yesterday at a ceremony to give out keys to unit owners in Taman Sri Bayu, an abandoned flats project revived by the Government.

Also present were Housing and Local Government Minister Datuk Seri Ong Ka Ting and Chief Minister Tan Sri Dr Koh Tsu Koon.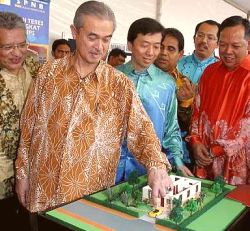 HOME SWEET HOME: Abdullah looking at the model of a house in Bayan Lepas, Penang yesterday. He is flanked by Ong and Syarikat Perumahan Negara Bhd executive chairman Tengku Adnan Tengku Mansor.
The Prime Minister said Syarikat Perumahan Negara Bhd, a wholly-owned subsidiary of the Ministry of Finance Incorporated, had completed 12,000 of the 32,000 abandoned units. This included the Taman Sri Bayu flats project that has 730 units.

Abdullah reminded developers to honour their contracts to complete housing projects irrespective of problems.

"Facing losses is a risk in business."

He reiterated that the Government would blacklist companies and contractors who failed to complete projects, such as the project to build houses and offices for the police of which RM25bil had been allocated.

"Anyone else involved in these companies will also be blacklisted. I do not want to see the police project getting abandoned," he said.

Abdullah said there were 60,000 contractors in the country, and if some of them were unable to carry out projects, it was better for them to deregister themselves than be blacklisted.

He also urged those occupying government offices and houses to keep them in good condition, adding that the Government had to fork out RM500mil to repair damages.

Ong said the Housing Development (Control and Licensing) Act was being revised to further protect housebuyers.

He said ministry was taking steps to amend the Act again to overcome weaknesses that still existed. The Act was last amended in 2002.

The ministry, he added, was also tightening enforcement to protect housebuyers and solve the problem of abandoned housing projects.

"Irresponsible developers will be charged in court," he said. He also said the ministry had tightened the procedures in issuing housing development licences, adding that the financial capability of the companies would be closely scrutinised.

He cited the 1997-98 economic crisis as the biggest factor that caused many projects to be abandoned, as many developers were unable to repay loans due to high interest rates.

"Other factors included disagreements between the developer and landowner, poor management, and squatter problems," Ong added.