Free legal aid for house buyers
13/09/2004 The Star

A PANEL of lawyers will waive legal fees for the 42 house buyers named as parties in a High Court case brought by a developer against the Tribunal for Homebuyers Claims.
The 15 lawyers, who will be rendering their services through the National House Buyers Association (HBA), will appear for the house buyers when an application for judicial review by Fadason Holdings Sdn Bhd against the tribunal is heard on Sept 29.
HBA secretary-general Chang Kim Loong said the decision by the lawyers, who each have over 10 years experience, was made to help the house buyers who could not afford to be represented.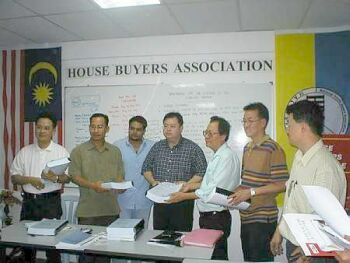 Chang (left) with some of the 15 lawyers who have volunteered their services. "Buyers do not normally have the stamina to go against rich developers.
"Some developers will abuse the legal process by deliberately appealing all rulings against them to either exhaust or further frustrate the complainants," he said at the association's office recently.
Previously, the tribunal had awarded late delivery compensation, ranging from RM1,000 to RM4,000, to 507 owners of the developer's low-and medium-cost apartments in mid-2003.
However, the High Court ruled the same year following an application for review by Fadason that the tribunal had no jurisdiction to hear and decide cases where the sale and purchase agreement (SPA) was entered into before Dec 1, 2002, when the tribunal was formed.
This was overturned on June 14 by the Federal Court, which ruled that the tribunal was empowered to hear all disputes related to the SPAs brought before it.
Chang said the case would be a demonstration of the effectiveness of the tribunal in protecting house buyers' rights.
"The obvious logical inference we can draw with the setting up of the Tribunal for Home Buyer Claims is that the Government wants to provide an easier, affordable and more accessible avenue for aggrieved house buyers to seek redress from their developers," he said.
In July last year, 12 lawyers had offered free legal services to 50 house buyers after developers Puncakdana Sdn Bhd and Westcourt Corp Sdn Bhd applied for a judicial review at the High Court against awards given by the tribunal in favour of the buyers.