Paying loans but no houses
09/07/2003 Sabah Times By MICHAEL TEH

Buyers urge government, ACA to investigate LPPB joint venture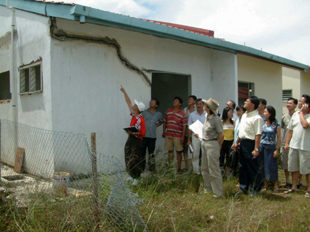 Hu, a representative of the affected house buyers showing Christina (middle with hat) a severe crack on one of the houses at the abandoned housing project.
KOTA KINABALU: What was supposed to be a 'safe buy' has turned out to become a nightmare for some 250 odd house buyers of the now-abandoned Taman Inanam Laut Phase II housing project here.
Reckoning that the developer was working in joint venture with the Sabah Housing and Town Development Board (LPPB), they went ahead and booked their houses.
Most of them, several civil servants included have been paying a monthly payment of between RM600 to RM900 for the last six years, for the bank loan that they took to purchase the house.
But the project is far from completed.
Worse still, the LPPB is asking them to pay fresh deposits as they claimed that the developer didn't give them (LPPB) the money that was paid earlier, according to one of the distraught house buyers.
Having no where to turn to, they are appealing to the State government, the Minster of Local Government and Housing especially, to take immediate action to resolve their plight.
They also want the State government and the Anti –Corruption Agency (ACA) to investigate the matter, as they felt that something was wrong somewhere.
Some 200 of the affected house buyers turned out at the area yesterday to meet up with Keadilan deputy chairperson, Christina Liew.
Liew, who heads the Keadilan Public Complaints Bureau, later remarked:
"This is just absolutely unfair to the house purchasers. On behalf of the house buyers, I urge the Minister concerned (Datuk Salleh Said Keruak) to immediately look into the matter and resolve it without any further delay.
"If he fails to do so, I will personally appeal to our Chief Minister, to intervene, like what he did with the plight of the 71 families in Kg Suang Prai recently.
"I must say that I'm very impressed with his (Musa) swift action," she said.
Liew hoped the minister concerned could instruct the LPPB to provide a definite answer to the purchasers on when they can expect to receive their house.
"Please stop giving any more meaningless lip service to the purchasers as they have been waiting (for their houses) and suffered enough for the last six years.
"Let me ask the minister concerned as to how he would feel if he was in their (purchasers) shoes? Would he just keep quiet?" she asked.
Liew added she would also be studying their sales and purchase agreement after this, to determine whether the house purchasers are entitled to claim the liquidated damages from LPPB, due to the delay in the project.
Officials from Sri Sathanas (M) Sdn Bhd, the developer, and LPPB, could not be contacted for comment.